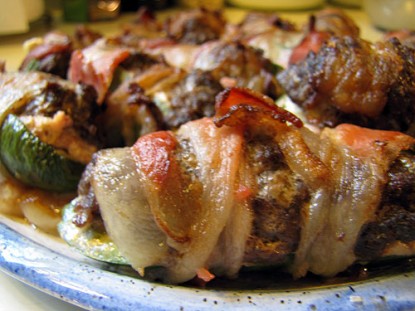 Difficulty: Easy
Servings: about a dozen
Prep Time:
20 minutes
Cook Time:
20 minutes
Ingredients
6-8 large jalapenos, cut in half lengthwise, ribs and stems removed
1 package cream cheese, softened
1 pound ground meat
1 egg
1 pound bacon, sliced thin*
Directions
*You need enough bacon slices for each jalapeno. Some packages of bacon have 12 slices, some don't. You might need two packages of bacon.
Start the grill, or preheat the oven to 400-degrees. Fill each jalapeno half with cream cheese. Mix egg with ground meat. Top with ground meat then wrap each "armadillo egg" with a slice of bacon. Bake at 400-degrees for 15-20 minutes then broil a few minutes to crisp the bacon, or grill until the sausage is cooked through and the bacon is crispy.
Categories: Appetizers & Snacks, Entertaining, Grill-Outdoor Cooking
Submitted by: suzanne-mcminn on May 29, 2014