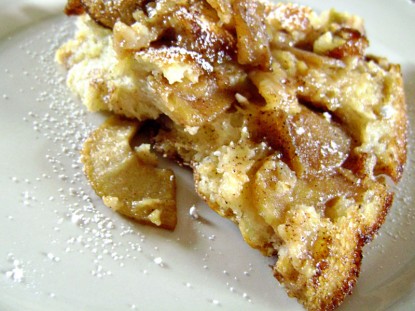 Difficulty: Easy
Servings: 8
Prep Time:
10 minutes
Cook Time:
about 15 minutes
Ingredients
3-5 apples, peeled, cored and sliced
1/2 stick butter
1/3 c brown sugar
1 tsp ground cinnamon
1 c baking mix (Bisquick or your own homemade version)
1 c milk
1 egg
1/3 c sugar
Directions
Cook apples over medium heat in a large skillet with butter, brown sugar and cinnamon until apples begin to soften, stirring often and being careful not to burn the sugar.
Mix together baking mix, milk, egg and sugar.
After apples are soft, pour batter over apple mixture but do not stir in. Sprinkle the top with a little cinnamon and more sugar, if desired.
Place skillet in preheated oven and bake at 375 degrees for about 15 minutes or until top begins to turn golden.
Categories: Breakfast, Budget, Desserts, Entertaining, Kid-Friendly, Old-Fashioned, Other Breakfast, Other Desserts, Pastries
Submitted by: kellyberry on January 25, 2011