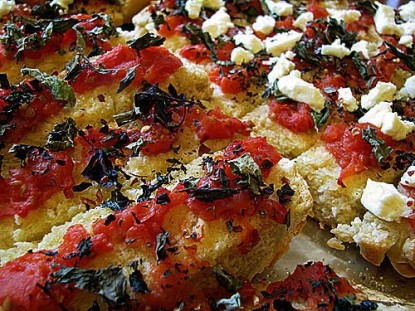 Difficulty: Easy
Servings: multiple
Prep Time:
5 minutes
Cook Time:
a few minutes
Ingredients
Italian loaves
olive oil
garlic salt
diced tomatoes
basil
cheese
red pepper flakes (optional)
Directions
To assemble: Slice loaves horizontally then make approximately two-inch slices across the loaf halves. Place on a baking sheet with the pieces all pushed together back into place. Drizzle olive oil and sprinkle garlic salt. Add tomatoes, basil, and cheese. Sprinkle the tops with red pepper flakes if desired. Broil until the cheese is hot and melty.
To make this recipe vegan, just leave the cheese off some of the slices. It's an easy dish to make for a bunch of people yet still tailor to specific tastes. It makes a light meal or just an appetizer. For the cheese, I used some crumbled homemade queso fresco, but you can use shredded or sliced mozzarella. I also used home-canned tomatoes, cut up, and dried basil from last summer. Since this can be made in any quantity you need, the ingredients are listed without measurements. Technically, the bread for bruschetta is sliced and toasted then the toppings are added. I like it hot from the oven, toppings and all, so I add the toppings then toast it all together. Up to you! I also like a dash of red pepper flakes at the end for some kick.
Categories: Appetizers & Snacks, Breads
Submitted by: suzanne-mcminn on June 6, 2010