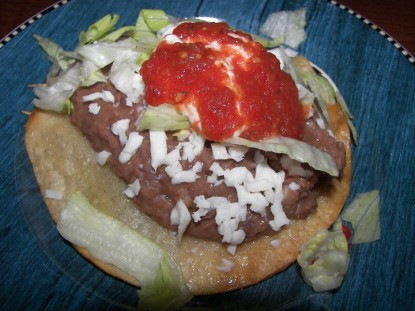 Difficulty: Easy
Servings: 10
Ingredients
4 cups dried pinto beans
Corn tortillas
Salt
Garlic Powder
1 Tsb. Oil
Shredded cheese
Shredded lettuce
Sour Cream
Favorite Salsa or Pico de Gallo
Directions
Put dried pinto beans in crock pot on high. Fill crock pot 3/4 full will water, sprinkle with salt & garlic powder. Stirring occasionally through out the day distributes heat evenly, recommended by not required.
As party time nears, ladle beans out of crock pot and into a deep sauce pan (for thicker beans, leave as much water as you can in the crock pot). Add a tablespoon of your favorite oil (I use olive), turn up the heat, grab your potato masher & favorite workout shirt. I re-fry the beans starting on high heat and lowering to medium as soon as the beans begin bubbling. Mash well and set aside. Shred lettuce and your favorite cheese (I use goat milk mozzarella) and set aside. If you want to add your own salsa – Pico de Gallo is easy to throw together. Chop tomatoes, jalapenos, onion & garlic – add cilantro & salt to taste. Wallah…Pico de Gallo!
Fill a frying pan about 1/2 full of your favorite fry oil (I use coconut) and turn on med/high heat, fry corn tortillas on both sides until crispy, drain on a paper towel. Top your crispy tortilla with your refried beans, cheese, lettuce, sour cream, salsa or pico and ENJOY!
Categories: Beans, Budget, Crock Pot, Entertaining, One Dish Meal, Salsas, Tortillas & Pitas
Submitted by: suzabonita on January 17, 2011