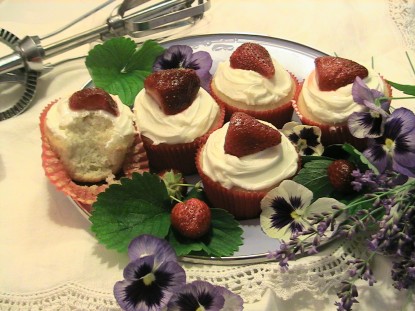 Difficulty: Easy
Servings: 16-20
Prep Time:
10 minutes
Cook Time:
15-20 minutes
Ingredients
2 Cups of Sugar
3 Eggs
2 1/2 cups all Purpose Flour
1 Cup of Milk
3/4 cup of Vegetable Oil
2 1/4 teaspoons of Baking Powder
1 1/2 teaspoons of Vanilla (home made if you have it!) I'm working on that 🙂
Frosting, Strawberries, Sprinkles, Flowers, Toppings
Directions
Preheat oven to 350 degrees. Put cupcake liners in cupcake pan or spray or grease well. In a mixing bowl, beat sugar and eggs together for about 1 minute. Add flour, milk, oil, baking powder and vanilla and beat for another minute or until your batter is smooth and creamy. Don't overmix. I use an old fashioned hand mixer. Pour batter in cupcake cups and fill about 2/3 full. Bake for about 15-20 minutes or until a toothpick comes out clean when you poke the center of a cupcake. Let cool, frost with your favorite frosting. You can top with strawberries (YUM), sprinkles, blueberries, etc. Serve and EAT. Keep Kitties out of the kitchen.
Categories: Breads, Budget, Crowd-Size, Cupcakes, Dairy, Desserts, Holiday, Kid-Friendly, Special Occasions
Submitted by: anghaley on June 11, 2010