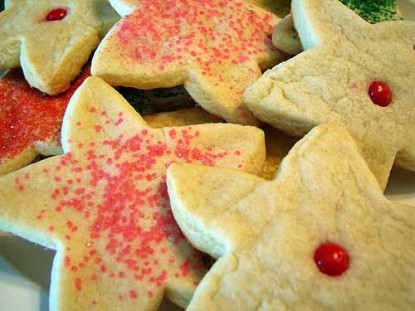 Difficulty:
Servings: 3-4 dozen
Prep Time:
10 minutes plus chilling time
Cook Time:
6-8 minutes
Ingredients
1 1/2 cups butter, softened
2 cups sugar
4 eggs
1 teaspoon vanilla
4 1/2 cups flour
2 teaspoons baking powder
dash of salt
Directions
Cream butter and sugar. Add eggs and vanilla; blend. Mix in flour, baking powder, and salt. Divide dough into three pieces on plastic wrap. Store wrapped dough in the refrigerator for at least three hours. Preheat oven to 400-degrees. Take out chilled dough one section at a time. Roll each section to 1/4- to 1/2-inch thickness, dusting with flour. Cut out in shapes. Place on a greased baking sheet and decorate as desired. Bake for 6-8 minutes.
Categories: Cookies & Bars, Desserts
Submitted by: suzanne-mcminn on December 9, 2010