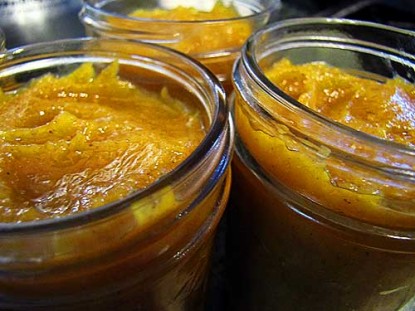 Difficulty: Easy
Servings: approx. 3 half-pints
Prep Time:
45 minutes
Cook Time:
30 minutes
Ingredients
2 cups fresh mashed winter squash
1/3 cup lemon juice
3/4 cup sugar
1 teaspoon ground ginger
1 teaspoon ground cinnamon
1 teaspoon ground cloves
1/2 teaspoon nutmeg
Directions
Combine ingredients in a medium-size saucepan and bring to a boil. Reduce heat, simmer for 30 minutes, stirring every few minutes. Let cool. Spoon into jars and keep refrigerated, or freeze in freezer containers.
NOTE: Home canning pumpkin butter or any mashed winter squash is not recommended. But that doesn't mean you can't make it! You can refrigerate it to use within a week or two, or freeze it for longer storage.
Categories: Freezing, Preserving
Submitted by: suzanne-mcminn on September 30, 2011