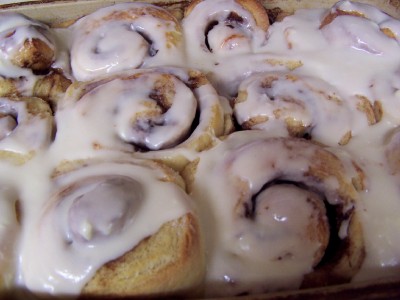 here
.
Difficulty: Easy
Servings: 12
Prep Time:
1-1/2 hours
Cook Time:
15 minutes
Ingredients
For the dough, you will need:
1 cup of sourdough starter
1/4 cup warm water
1 teaspoon of yeast
1/2 cup sugar
1 teaspoon of salt
1/4 cup of dry buttermilk powder
1/3 cup lard, shortening, or butter, melted and cooled a bit
2 eggs (at room temperature)
about 3 cups of flour
You'll also want to set out a stick of butter to soften while you work so that it's ready to spread when it comes time to do the filling.
Directions
Put the sourdough starter in the big bowl that came with your KitchenAid mixer. And get your dough hook ready so you don't have to do all the work by hand.
Add the salt, sugar, melted fat, buttermilk, and eggs. Use the dough hook attachment and combine these ingredients just a bit.
Take the 1/4 warm water and sprinkle the yeast onto the surface, then let it stand about 5 minutes. It will get a little bubbly. Then, add that to the mixture in the mixer.
Turn on the mixer on a low speed, and gradually add the flour until the dough forms a soft ball of dough and starts to climb the dough hook. Be sure the dough is not sticky, but that it is soft.
Take it out of the bowl, place some softened butter or some vegetable oil on one hand, and rub it lightly all over the surface of the dough. Put it in a bowl or on a cutting board or something, cover it with a tea towel, and let it rise until it is about doubled in size. This could take as a little as an hour if you have happy sourdough and yeast, but don't give up on it if it takes longer. Sometimes when it's cold in my house, I have to heat the inside of the oven to about 150 degrees, turn it off, then put the covered dough in there to make it happy.
Once the dough has risen to double, punch it down.
It's time to roll out the dough. I use a big vinyl cutting board, but you could use your tabletop surface or counter-top. Rub a little flour across that surface, plop the dough there, and roll it out to a rectangle about 18″x20″.
Take the softened butter (you did remember to do that, didn't you?) and rub it evenly across the surface of the dough. And yes — just use your bare hands. Don't be a sissy!
Then use about 1/2 cup of sugar (white, brown, mixed — whatever you want to use is fine) and a big tablespoon's worth (or maybe even two) of cinnamon. Spread/sprinkle that on top of the butter.
Then roll the whole thing up like a log, and cut it into 12 equal pieces. Or if you want smaller rolls, cut it into more pieces. I usually cut it in half, then each half in half, then each half of a half into thirds. That'll give you 12. Aren't you glad you took math?
Place them into a 9″x12″ pan. Now cover that pan with the same tea towel, and let them rise to about double again. They will be all squished together. But that's okay. Preheat the oven to 400 degrees.
Once they've risen, you can slide the pan into the oven. Bake them at 400 degrees for about 15 minutes, until they are nice and light golden brown and they will smell really good. Set the pan on a cooling rack, and you can make the icing.
For the frosting, I just combine more softened butter, a splash of vanilla, and some cream. Well, you could use milk or even water, but cream? That's gonna taste really good. Don't get all stressy about amounts. It'll work out and is hard to ruin. But if you really want numbers, try 3 tablespoons of the softened butter, 1 cup of powdered sugar, and a teaspoon or vanilla extract. Some people I know like to put a pinch of salt in their frosting, so do it if you want to. You'll want this thin, but still spreadable. Well, *I* want mine thin, but still spreadable.
Once the rolls have cooled at least 20 minutes, put the frosting on the rolls and spread or drizzle it around.
My husband Jim likes when I put another little pat of softened butter on a small plate or saucer, then the cinnamon roll, then another little pat of butter on the top. He usually gets his way in this. I used to make these where I melted a stick of butter in the baking pan before I added the rolls, so I can give in to his request for a tiny bit more butter. (Still, if you want something REALLY good, try melting the stick of butter into the baking pan before you put the rolls in, and don't tell your doctor you did it.)
Categories: Breads, Breakfast, Old-Fashioned, Other Breakfast, Pastries, Rolls, Sourdough, Yeast Breads
Submitted by: kathleennoland on September 11, 2011