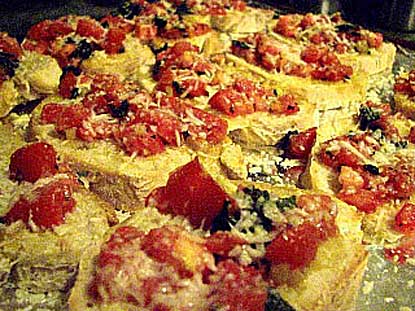 Difficulty: Easy
Servings: 12
Prep Time:
10 minutes
Cook Time:
5 minutes
Ingredients
one loaf French bread
1/2 cup olive oil
1 cup ramps, white parts and leaves, chopped finely
3-4 fresh tomatoes, depending on size, chopped
1 tablespoon fresh basil, chopped, or 1 teaspoon dried basil
salt and pepper
1 cup Parmesan cheese, grated
Directions
Cut french bread in one-inch slices and place on large baking sheet. Sautee ramps, white parts and leaves, in olive oil in a large frying pan on medium-high for about 5 minutes. Remove from heat and add tomatoes, basil, and season with salt and pepper to taste. Combine well; spoon mixture onto french bread slices and top with Parmesan. Broil for a few minutes, till cheese melts and edges of bread slices crisp.
Categories: Appetizers & Snacks
Submitted by: suzanne-mcminn on April 5, 2011