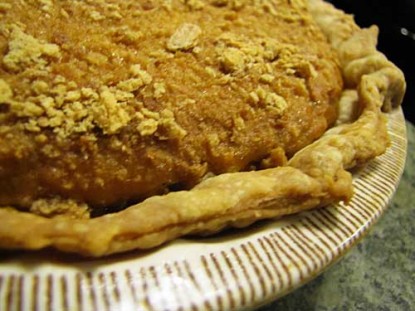 Difficulty: Easy
Servings: 8
Prep Time:
15 minutes
Cook Time:
50 minutes
Ingredients
2 cups pumpkin (or butternut or cushaw) puree
1 cup lactic cheese
1 cup sugar
2/3 cup (5 ounces) evaporated milk
1/2 cup milk
3 eggs
2 tablespoons bourbon (optional)
1 teaspoon cinnamon
1/2 teaspoon salt
1/2 teaspoon nutmeg
1/2 teaspoon ginger
pastry for single-crust pie
crushed graham crackers
Directions
Pumpkin (and other winter squash) puree, especially homemade, has a lot of water in it. I measure and press until I have 2 cups pressed puree. Too much water in your puree will interfere with setting your pie.
Combine first 11 ingredients in a medium-size bowl; beat well with electric mixer. Spoon into prepared pie crust. Sprinkle crushed graham crackers over the top. (It just takes a couple of graham crackers to crush enough.) Bake on lower rack of oven at 400 degrees for 15 minutes. Lower oven temperature to 350 and bake another 30-35 minutes until filling is firm and knife or toothpick inserted near center comes out clean.
Categories: Cheesecakes, Desserts, Pies
Tags: Christmas, Thanksgiving
Submitted by: suzanne-mcminn on October 15, 2011