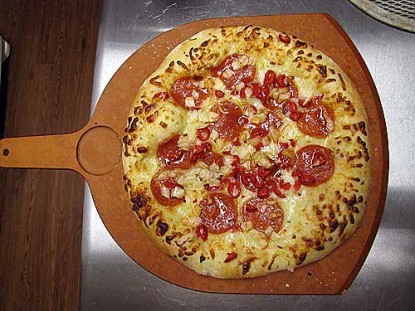 Difficulty: Easy
Servings: 2-4
Prep Time:
45 minutes
Cook Time:
10-15 minutes
Ingredients
1 cup warm water
1 teaspoon yeast
1 teaspoon sugar
1/2 teaspoon salt
2 tablespoons olive oil
approximately 2 1/2 cups flour
Directions
Combine water, yeast, and sugar in a bowl. Let sit 5 minutes then add salt, olive oil, and first cup of flour. Stir and continue adding flour until it's too hard to stir, then start kneading, add more flour until a smooth, pliable dough is formed. (You can also use a food processor or stand mixer to make the dough if you prefer.) This is not the time to go for a wetter dough–make sure it's sturdy or it will stick later. Place dough in a greased bowl and let rise about 30 minutes.
Place dough on a well-floured surface. (Add a little cornmeal to the surface, too.) Roll, shape, stretch dough into a 12-inch circle. Spray a pizza screen WELL. Transfer the dough to the pizza screen, making sure the bottom of the dough is still well-floured.
Add toppings. Bake anywhere from 425 to 500 degrees. A lower temperature will make a softer crust. A higher temperature will make a crispier, chewier crust. (Don't walk away–it cooks fast at 500!)
Categories: Breads, Pizza Crusts
Submitted by: suzanne-mcminn on September 26, 2012