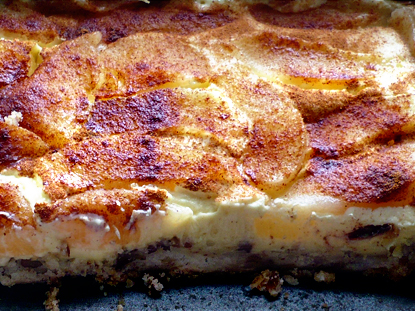 Photo by rephiddy
Delicious pear and cream cheese filling on a sweet, buttery crust.
Difficulty: Easy
Servings: 16 bars
Ingredients
Bars:
1/2 cup butter, softened
1/3 cup sugar
3/4 cup all purpose flour
1/2 tsp vanilla
2/3 cup chopped macadamia nuts
Filling/Topping:
1 pkg. (8 ounces) cream cheese, softened
1/2 cup sugar
1 egg
1/2 tsp. vanilla
1 can (15 1/4 ounces) pear halves, drained
1/2 tsp. sugar
1/2 tsp. cinnamon
Directions
In mixing bowl, cream butter and sugar. Beat flour and vanilla until combined. Stir in nuts. Press into greased 8-inch square baking pan.
Bake at 350 degrees until lightly browned. Cool on wire rack.
Increase heat to 375 degrees.
In a mixing bowl, beat cream cheese until smooth. Add sugar, egg and vanilla. Mix until combined.
Pour over crust. Cut pears into 1/8-inch slices. Arrange in a single layer over filling. Combine sugar and cinnamon and sprinkle over pears.
Bake at 375 degrees for 28-30 minutes (center will be soft set and will become firmer upon cooling).
Cool on wire rack for 45 minutes. Cover and refrigerate for at least 2 hours before cutting. Store in refrigerator.
** For 13 x 9-inch pan double the filling recipe. I also use chopped pecans when I don't have macadamia nuts.
Categories: Cookies & Bars, Desserts, Puddings & Custards
Submitted by: kentuckyfarmgirl on June 8, 2010