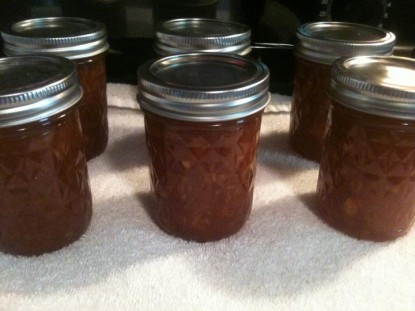 Difficulty: Easy
Servings: 5 1/2 pints
Ingredients
* 5 cups diced ripe firm peaches (8 to 12 peaches, depending on size)
* 4 tablespoons fresh lemon juice
* 4 cups granulated sugar, divided
* 1 scant teaspoon cinnamon
* 1/2 teaspoon ground nutmeg
* 1/2 teaspoon unsalted butter
* 1 pouch liquid fruit pectin
* 1 1/2 teaspoons vanilla
Directions
1. Chop peaches into very, very small pieces (using the food chopper). As you complete a cup add it to a preserving mix to prevent browning.
2. In a large deep kettle, combine the peaches with the lemon juice and 2 cups of the sugar; cover and let stand for 1 hour.
3. Fill a canner about half-full with water; add the empty canning jars and bring the water to a boil. Reduce heat to low to keep jars hot. Bring a saucepan of water just to a boil; reduce heat to low and add the jar lids. Do not boil the lids.
4. To the peaches add the remaining sugar, cinnamon, nutmeg, and butter, if using. Heat uncovered over medium heat, stirring often, until sugar is dissolved. Bring to a simmer and simmer for 5 minutes, stirring frequently.
5. Increase the heat to medium-high. Stirring constantly, bring the mixture to a full rolling boil. Add the pectin and bring once again to a full rolling boil. Boil for exactly 1 minute longer. Remove from heat and skim excess foam from the mixture. Stir in vanilla and let the fruit mixture cool for 5 minutes, stirring occasionally.
6. Using tongs, carefully remove jars from the hot water, draining well. Fill them with hot fruit mixture, leaving 1/4 inch headspace. Wipe rims clean with a dampened cloth or paper towel and fit seals on tops of jars. Screw on the lids firmly. Lower the jars into the water and add more very hot or boiling water so the water is 1 to 2 inches above the jars. Bring to a boil. Cover and boil gently for 10 minutes. Remove jars from the hot water and let cool on a rack. Do not invert the hot jars.
7. Makes about 5 half-pint (8-ounce) jars.
8. Note: If using 1-pint (16-ounce) jars, process/boil the full jars for 15 minutes.
Categories: Boiling Water Bath, BWB Jams, Jellies, Butters & Preserves, Canning
Submitted by: cyndi on August 22, 2010