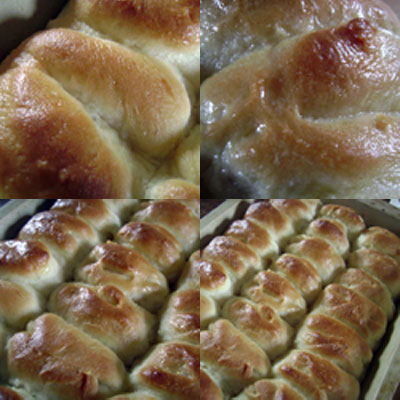 Difficulty: Easy
Servings: 24
Prep Time:
2 hrs
Cook Time:
20 min
Ingredients
2 TBL shortening (I used lard)
1 tsp salt
1/4 c sugar
1 cake yeast (1 scant TBL or 1 pkg dry yeast)
1 1/2 c lukewarm water
3 1/2 c sifted flour
1 egg, well beaten
Melted butter
Directions
Add shortening, salt, sugar and crumbled yeast cake (or dry yeast) to water, stir until shortening is melted.
Stir in sifted flour, cover and set in a warm place, free from drafts to rise.
When doubled in bulk, add egg. Knead lightly and let rise again until doubled in bulk. I did this right in the bowl with the back of the spoon, as it is quite wet.
Roll out 1/2" thick on well-floured board. Well floured is very important!! This is a quite wet dough! I sprinkled flour on top and did a light knead as well, before patting out.
Cut with a 2" biscuit cutter, crease in center with a dull knife, brush with melted butter (I just dabbed into a bowl of melted butter), and fold over, pinching the dough at sides to make a pocketbook. Place on baking sheet and brush tops with melted butter. Let rise.
Bake in hot oven (400F) about 20 minutes. Makes 24 (mine made 34).
Categories: Old-Fashioned, Rolls, Yeast Breads
Submitted by: cindyp on April 20, 2010