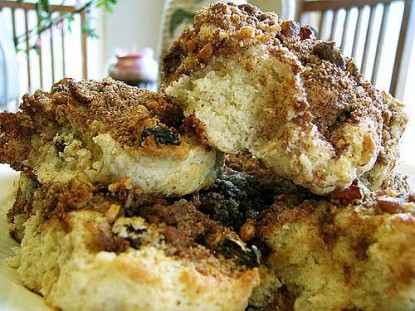 my Quick Mix cookbook
for more ideas using this dough.
Difficulty: Easy
Servings: 12
Prep Time:
20 minutes
Cook Time:
15-20 minutes
Ingredients
2 cups all-purpose flour
2 teaspoons baking powder
1/3 cup sugar
1/4 teaspoon cream of tartar
1/4 teaspoon salt
1/2 cup butter, softened
3/4 cup raisins*
3/4 cup milk
*Raisins are optional.
Note: To use a baking mix, replace first 5 ingredients with 2 cups baking mix, adding a tablespoon of sugar.
Filling:
1 tablespoon butter, melted
1/4 cup chopped nuts
1 tablespoon cinnamon
2 tablespoons sugar
Streusel Topping:
2 tablespoons brown sugar
1 tablespoon all-purpose flour
1 teaspoon cinnamon
1 tablespoon butter
1/2 cup chopped nuts
Directions
Place first 5 ingredients (or 2 cups of baking mix) in a large bowl and work in the butter with a pastry cutter. Add the raisins then the milk. Knead the dough lightly, adding a little extra flour if needed to keep from sticking.
Roll dough out onto a floured surface into an approximately 16 x 8 rectangle. Spread melted butter over the dough. Sprinkle the filling over the top, making sure to get all the way to the edges. Roll dough up from the long side. Seal edges. Slice into 12 pieces. Place biscuits closely together on a greased baking sheet.
For the streusel topping, combine first four ingredients, blending butter in well with a pastry cutter. Sprinkle topping over the biscuits. Bake at 450 degrees for 15-20 minutes.
*Recipe makes one dozen biscuits.
P.S. Try cut-up apple instead of raisins!
Categories: Biscuits, Breads, Breakfast
Submitted by: suzanne-mcminn on July 24, 2010