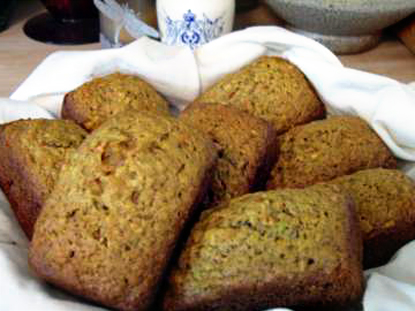 Read More
Difficulty:
Ingredients
2 cups flour
1 1/4 cups sugar
2 teaspoons baking soda
1/2 cup raisins
2 teaspoons cinnamon
1/4 teaspoon salt
2 cups shredded carrots (about 3) — I peel them sometimes
1/2 cup coconut — I use the un-sweetened variety
1 apple (or pear, whichever is in season or handy), peeled, cored & shredded — sometimes I don't peel it, either
3 eggs
1 cup veggie oil — I use Olive Oil
2 teaspoons vanilla
Directions
Preheat oven to 350° F. Grease 12 muffin cups.
In a large bowl, mix flour, sugar, baking soda, cinnamon & salt. Stir in coconut, carrot, raisins & apple. I use my stand mixer for all of this. In a separate bowl, beat eggs, oil & vanilla. Stir into flour mixture to combine. Bake 20 minutes or until inserted toothpick comes out clean.
Categories: Breads, Breakfast, Muffins, Other Breakfast
Submitted by: faboo42 on November 5, 2010