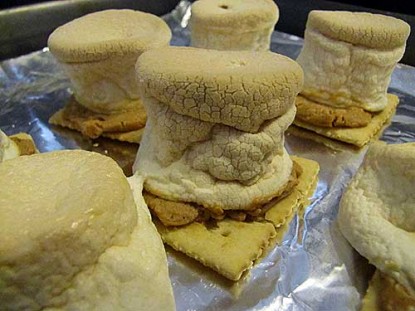 Difficulty: Easy
Servings: 1-6
Prep Time:
5 minutes
Cook Time:
5-8 minutes
Ingredients
Ritz Crackers or other round buttery cracker
Peanut Butter
Marshmallows (large or small sizes)
Plan on at least 3 crackers per person as they go fast and everyone loves them!
Directions
Preheat oven to 350 degrees. Smear one teaspoon of peanut butter on each cracker and top with one large marshmallow or three tiny marshmallows. Bake until the marshmallow is puffy and toasted light brown.
Categories: Appetizers & Snacks, Budget, Kid-Friendly, Other Desserts
Tags: easy
Submitted by: missdana on January 24, 2011