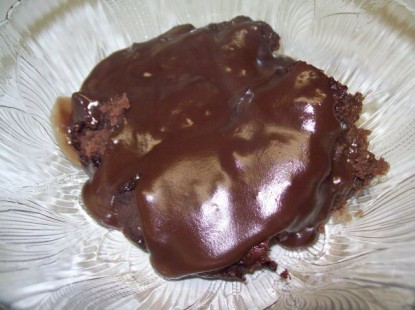 Difficulty: Easy
Servings: Approx. 12 depending on how big you scoop :)
Cook Time:
30-45 mins.
Ingredients
Ingredients:
1 cup all-purpose flour
3/4 cup sugar
2 tbsp. cocoa
2 tsp. baking powder
1/4 tsp. salt
1/2 cup milk
2 tbsp. shortening, melted*
1 cup finely chopped nuts (optional)
1 cup brown sugar, packed
1/4 cup cocoa
1 3/4 cups hot water
Directions
Preheat oven to 350°F.
In a mixing bowl, measure flour, sugar, 2 tbsp. cocoa, baking powder and salt. Blend in milk and shortening; stir in nuts.
Pour into an ungreased 9x9x2-inch square baking pan.
Stir together brown sugar and 1/4 cup cocoa; sprinkle over batter. Pour hot water over the batter. Do not stir!
Bake for 30-45 minutes or until a toothpick inserted in center of cake (not the pudding) comes out clean.
While the cake is still very warm from the oven, spoon cake and pudding into dessert cups or serving bowls. Top with Cool Whip, whipped cream flavored with rum or vanilla ice cream, or garnished with chocolate curls, if desired, or serve as-is.
*If using salted butter, decrease salt by half.
Categories:
Submitted by: nataliecyphers on May 2, 2010