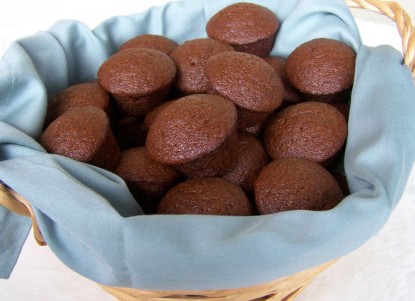 Difficulty: Easy
Servings: 24
Prep Time:
10
Cook Time:
15
Ingredients
1 cup of dark brown sugar
2 1/2 cups of flour
1 1/2 tsp. baking soda
1 tsp. cinnamon
1 tsp. ginger
1/2 tsp. salt
1/4 tsp. nutmeg
1 egg
1/2 cup of molasses
1 cup buttermilk
1/2 cup of melted butter
Directions
Preheat oven to 350 degrees (F). Spray/butter muffin tins.
Combine sugar, flour, soda, salt and spices in a bowl.
In a separate bowl mix the egg, molasses, milk, and butter.
Add the wet ingredients to the dry and stir until just blended.
Add to muffin tins (about 3/4 full, these muffins don't rise too much, so you don't have to worry about them overflowing) and bake for 15 minutes. If making normal sized muffins, it'll be more like 20 minutes. Muffins are done when a toothpick comes out clean.
Tags: easy
Submitted by: emiline220 on April 28, 2010