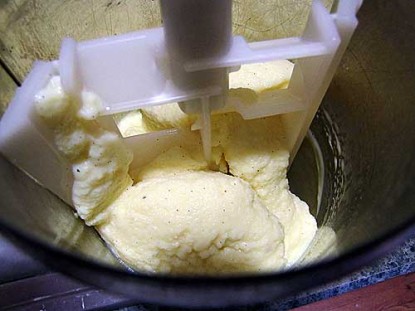 Difficulty: Easy
Servings: makes about 1 1/2 quarts
Prep Time:
1 hour, divided
Cook Time:
about 20 minutes
Ingredients
4 cups milk
6 beaten egg yolks
1 cup sugar
3 teaspoons vanilla extract
1/4 teaspoon salt
2 cups half-and-half or light cream
scrapings from 3 vanilla beans
Directions
Note: I used 6 cups milk instead of the 2 cups half-and-half or light cream and it was still plenty rich!
Combine milk, egg yolks, salt, and sugar in a double boiler. Cook until the mixture thickens up and coats a spoon. Cool. Add vanilla, cream, and vanilla bean scrapings. Chill 4 hours in the fridge then churn in an ice cream maker.
Increase recipe as needed to suit the size of your ice cream maker.
Categories: Dairy, Desserts, Ice Creams
Submitted by: suzanne-mcminn on April 12, 2011