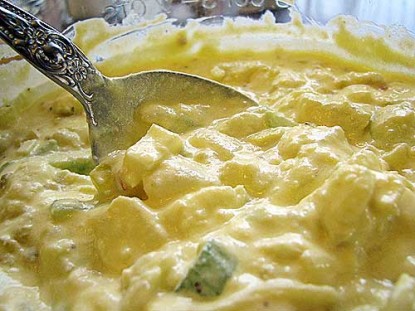 Difficulty: Easy
Servings: 10-12
Prep Time:
30 minutes
Cook Time:
15 minutes to boil diced potatoes
Ingredients
6 medium potatoes (2 pounds), diced and cooked
6 hard-boiled eggs, chopped
3 stalks celery, chopped
1 cup sweet pickle relish
1/2 cup onion, chopped
1 1/4 cups mayonnaise
1 tablespoon white vinegar
1 tablespoon lemon juice
1 tablespoon prepared mustard
1 tablespoon sugar
salt and pepper to taste
Directions
Peel and dice the potatoes before boiling. They cook faster that way and it's easier to dice them while they're hard. Drain and cool the potatoes. Combine everything in a big bowl to stir up and taste-test for your salt and pepper. I use a big bowl to mix everything up then transfer to a medium-size bowl for storing and serving. Chill the potato salad thoroughly before serving. It's best to make potato salad a day ahead to give time for the flavors to meld and for it to get really, really cold.
Categories: Entertaining, Potato Salads, Potatoes, Potluck, Salads, Side Dishes
Submitted by: suzanne-mcminn on April 5, 2011