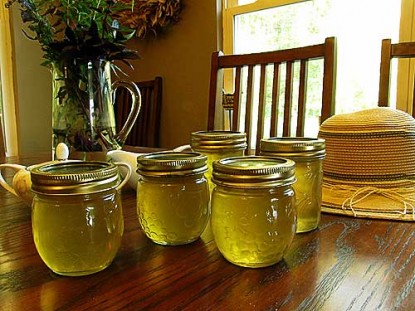 Difficulty: Easy
Servings: 5 half-pints
Prep Time:
30 minutes
Cook Time:
40 minutes
Ingredients
12 large ears of corn
2 quarts water
2 tablespoons lemon juice
1 package powdered pectin
sugar
Directions
Cook corn; cut kernels from cobs and store for another use. Measure 2 quarts water into a large pot; add corn cobs. Bring to a boil; boil hard for 30 minutes. (If you had the pot covered when you brought it to a boil, take the lid off now. Boil it down uncovered for a more concentrated result.) Turn off heat and remove cobs. Strain corn liquid through cheesecloth or a fine mesh strainer–if desired. (I prefer to leave the corn bits in there!) Measure remaining corn liquid. I get a little over 3 1/2 cups corn liquid after it boils down. Return liquid to the large pot. Stir in lemon juice and pectin. (Add a dab of butter to prevent foaming.) Bring to a boil. Add sugar cup per cup to match the measure of your corn liquid. Stir to dissolve sugar. Bring pot to a rolling boil. Boil hard one minute, stirring constantly. Remove from heat. Ladle hot corn cob jelly into hot jars. Adjust lids and bands. BWB 10 minutes.
Categories: Boiling Water Bath, BWB Jams, Jellies, Butters & Preserves, Canning, Old-Fashioned, Preserving
Submitted by: suzanne-mcminn on September 2, 2010