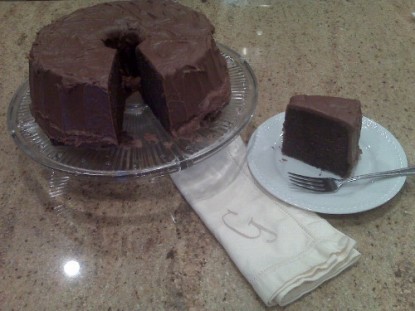 I have Esther's handwritten recipe. She included some notes about some of the ingredients. I'm writing this recipe in Esther's voice.
Difficulty: Intermediate
Servings: 10
Prep Time:
30 min.
Cook Time:
80 min.
Ingredients
For cake:
1/2 pound butter or 3 sticks oleo. I use oleo.
1/2 cup shortening. I use cooking oil.
3 cups sugar
5 eggs
3 cups plain flour
1/2 teaspoon baking powder
1 teaspoon salt
4 tablespoons cocoa
1 cup sweet milk
1 tablespoon vanilla
For icing:
3/4 stick oleo
2 squares of chocolate
1 pound of confectioners sugar
1 teaspoon vanilla
Cream as needed
Directions
For cake:
Cream together butter and shortening. Add sugar and eggs. Sift dry ingredients together and add vanilla. Add alternately with cream mixture. Bake in a large pound cake pan (tube pan) 9 to 10 inches. Put wax paper in bottom. Spray sides and bottoms. Cook 325 degrees for 80 minutes. My stove cooks it in 1 hour at 300 degrees. Don't overcook it. It will be dry. Some stoves cook different.
For icing:
Melt butter and chocolate together. Add sugar and vanilla. Cream well and spread. It should be firm. And spread good not runny. I let it set a few minutes and run a knife around tube and it comes out good.
Categories: Cakes, Frostings & Icings
Submitted by: syrupandbiscuits on April 15, 2011