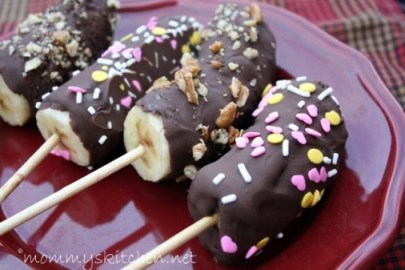 Difficulty: Easy
Servings: 8-10
Prep Time:
30 minutes
Ingredients
4-5  ripe bananas (not over ripe)
1 – 24 oz package chocolate bark or candy coating
8-10 popsicle sticks or chop sticks
sprinkles, rice krispies or chopped nuts
2 – tablespoon's creamy peanut butter, optional
waxed paper or foil
Directions
Peel the bananas and cut in half. Grab some handy helpers to insert the sticks into each banana. You can lay them on a baking sheet or place the bananas in a gallon size zip lock bag. Place in the freezer until the bananas harden (about 2 hours). You can add lemon juice or on the bananas to prevent browning, but my bananas never brown in the freezer. To start use 1/2 of the chocolate bark, place in a microwave safe boil and melt on the defrost setting for 3 minutes. Do not melt on the cook setting or the chocolate will cook and burn. I defrost mine in 3 minute intervals in the microwave. If you want to add peanut butter add it to the chocolate while it melts in the microwave. When melted, remove from the microwave and stir to blend. You want the chocolate really smooth.
Spoon the melted chocolate onto each banana until they are coated. Do not dip the bananas into the chocolate mixture or it will harden on you. The best way is to spoon the chocolate on each banana. Roll in rice cereal, sprinkles, chopped nuts or just leave them plain. I highly recommend chopped pecans. Place on a baking sheet lined with wax paper or foil and put in the freezer to set for about 20-30 minutes. Remove and Enjoy!
Categories: Desserts, Frozen, Kid-Friendly
Tags: Summer
Submitted by: mommyskitchen on August 16, 2010