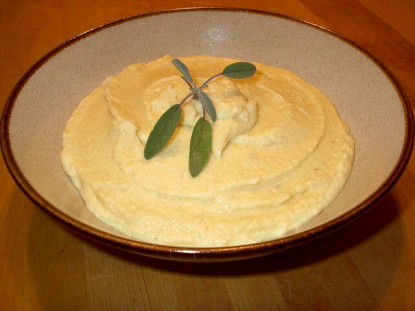 Difficulty: Easy
Servings: 6-8
Prep Time:
5 minutes
Cook Time:
15 minutes
Ingredients
1 large head cauliflower
2 Tbsp. butter
2 Tbsp. flour
1 cup milk
1 tsp. salt
Freshly ground black pepper to taste
1/2 tsp. nutmeg
Directions
Cut the cauliflower into fourths. Discard the heavy stem and cut into florets. Simmer in plenty of boiling water for 6-8 minutes until soft and tender. Drain thoroughly.
In the meantime, heat the butter in a small saucepan. Stir in the flour and cook, stirring, 1 or 2 minutes. Add the milk gradually to the flour mixture. Stir with a wire whisk until thickened and bubbly. Season the sauce with the salt, pepper and nutmeg.
Pour the sauce into a blender or food processor. Add the cauliflower to the blender and puree the mixture until it is smooth. Serve immediately; or place in a greased casserole for later reheating.
Categories: Casserole, Entertaining, Potluck, Side Dishes, Vegetables, Vegetarian
Submitted by: gladdismom on February 16, 2012