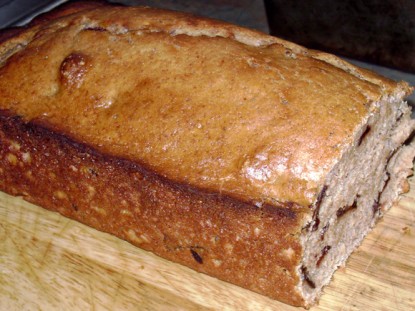 Difficulty: Easy
Servings: Approx 12 slices
Prep Time:
12 hours including soaking time
Cook Time:
Approx 50 minutes
Ingredients
1 cup of tea (no milk or sugar) Hot or warm is better (I use 'normal' black tea, but works very well with fruit teas too).
1 cup of sugar (I use golden sugar, but any would do) Can be adjusted as low as 1/2 a cup if required
1 cup of mixed dried fruit (whichever you like*)
2 cups all-purpose flour
3 teaspoons baking powder
1/2 teaspoon salt
1 egg
Directions
Mix 1 cup of tea, sugar and dried fruit together and leave to soak overnight if possible.
Next Day:
Line a 1 lb loaf tin with silicon/non stick baking sheet, leaving enough overhanging to make a 'tent' over the top to prevent burning. Then add to the tea/fruit mixture, the 2 cups of flour, baking powder, and 1 egg. Mix together well and pour the mixture into the prepared loaf tin, and bake at 375 F for approximately 50 minutes or until a skewer comes out clean.
*This recipe is very versatile, I have used half white and half wholemeal flour, and all white, or all wholemeal. I'm sure you have other options.
I usually use mixed dried fruit (currents, sultanas, raisins and mixed candied peel), but have also used apricot and even added chopped fresh orange. It's really personal preference.
I only use 1/2 a cup of sugar and it's plenty sweet enough for me. (I cut back on sugar in all recipes as I'm diabetic.)
To serve: Either sliced on its own or better still spread with butter, warm from the oven or cold.
It freezes very well. I usually make a batch by doubling, or tripling the mixture and freeze the extra. (I only have three 1 lb loaf tins).
Categories: Breads, Fruit Breads
Submitted by: roseh on May 5, 2010