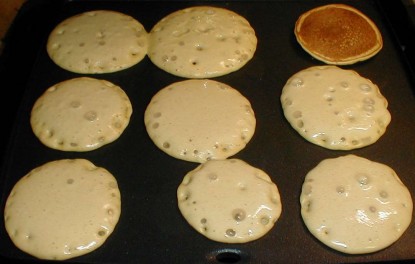 Difficulty: Easy
Servings: 4-6
Ingredients
1-3/4 cups buttermilk
3 eggs
2 tbs oil (olive oil preferred)
1 tsp vanilla extract
2 cups rolled oats*, uncooked
2 tbs sucanat or regular white granulated sugar
1/2 tsp salt
1/2 tsp baking soda
2 tsp baking powder
* (this is the same as Quaker Oats Old-fashioned oats in the canister)
Directions
Place the first 5 ingredients in a blender container and blend at high speed for 2 minutes. Add remaining ingredients and mix in thoroughly, but briefly, using blender or rubber spatula.
Bake on moderately hot griddle or in hot waffle iron for waffles.
Makes about 16 4″ cakes.
The recipe is correct as written — it calls for no flour, just old-fashioned oatmeal.
At times when I'm out of buttermilk, I substitute plain yogurt thinned with a bit of water in place of the buttermilk. About 1 or 1-1/4 cups yogurt plus 3/4 or 1/2 cup water as needed to make the total of 1-3/4 cups liquid called for in recipe.
The 2-min blend is essential to getting the recipe to work. The first few times I tried this, I did not let the blender run the full time and couldn't understand why the pancake batter was so-o-o runny. Ended up adding as much as 1/2-cup flour each time. Finally I decided to set the timer and actually "follow the recipe" (a novel idea for me) and, voila! It works like a charm.
Categories: Breakfast, Diabetic, Freezing, Gluten-Free, Griddles, Kid-Friendly, Special Diets, Vegetarian
Submitted by: walnutspinney on May 21, 2010