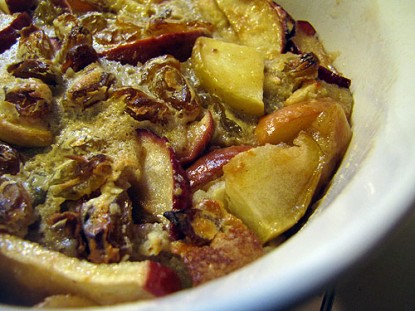 Difficulty: Easy
Servings: 6-8
Prep Time:
30 minutes
Cook Time:
50 minutes total
Ingredients
1/2 cup raisins
1/4 cup dark rum
6-7 medium-sized apples (2 pounds)
1/2 cup butter
2/3 cup sugar
3 large eggs
1/2 cup sugar
1/4 cup all-purpose flour
1/3 cup cream
1/4 teaspoon cinnamon
Directions
Soak the raisins in a small bowl with the rum–for at least a couple hours, or overnight. I used golden raisins. Wash but don't peel the apples. Core and cut into thin slices. While preparing the apples, preheat the oven to 375-degrees. When the apples are ready, place the butter in a large baking pan and put it in the oven for a few minutes to melt the butter. Once the butter is melted, remove the pan from the oven and add the apples and the 2/3 cup sugar. Mix the apples and sugar into the butter then return the pan to the oven for 25 minutes to partially bake the apples.
Take the pan of apples out of the oven and spoon the apples into a 2-quart baking dish, including a little bit of the apple liquid. (Not all of it! It's too much. Just what goes in there in the process of spooning in the apples is enough.) Sprinkle additional sugar over top of the apples, if you like.
Whisk together the eggs and the 1/2 cup sugar. Add the flour, cream, and cinnamon, and mix well. Drain as much of the rum as possible from the raisins over the apples then fold the raisins into the batter mixture. Pour the batter mixture over the apples and spread evenly. Bake at 375-degrees for 25-30 minutes or until the top is slightly golden.
Julia says you can serve it hot, warm, or cold, and with whipped cream or nothing at all.
Categories: Cobblers, Desserts, Entertaining, Gourmet
Submitted by: suzanne-mcminn on November 18, 2013