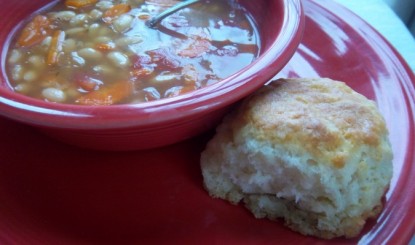 Difficulty: Easy
Servings: 12
Prep Time:
5 minutes
Cook Time:
12 - 15 minutes
Ingredients
2 cups all purpose flour OR all purpose Gluten Free flour mix (I used King Arthur brand.)
2 Tbsp baking powder
1 Tbsp white sugar
1/2 tsp salt
1/2 cup shortening (or butter or margarine) – I used Earth Balance natural shortening
1/2 cup sour cream
1/2 cup 7-UP (or Sprite or Ginger Ale)
1/4 cup melted butter
Directions
Preheat oven to 450 degrees. Put 1/4 cup butter in iron skillet or 8 inch baking pan and melt in oven. Mix dry ingredients together. Cut in shortening until mixture is crumbly. Add 7-Up and sour cream. Mix together until just combined. If the dough is too dry you can add a small amount of 7-Up to fix that. The dough should be soft and not dry, but not too sticky either.
Pat out dough on a floured counter about 1/2 inch thick. Cut out biscuits. I used a 2 inch biscuit cutter and got twelve biscuits from the dough. Remove skillet from oven and place cut out biscuits in hot butter being careful not to burn yourself! I usually keep a pot holder over the hot handle of my skillet to prevent myself or anyone else from carelessly grabbing the handle. Ouch!
Bake for 12 – 15 minutes until biscuits are a nice golden brown.
About the Gluten Free Version:
There was very little difference in the texture or taste between the two. The only real difference was that the wheat flour biscuits rose a little higher, but perhaps some xantham gum would help that, which I presently do not have in my cupboard. The taste and texture was incredible and my daughter was thrilled! The photos above are of the wheat biscuits.
Categories: Biscuits, Breads, Breakfast, Gluten-Free, Special Diets, Vegetarian
Tags: Southern
Submitted by: thevintagehomemaker on February 17, 2012