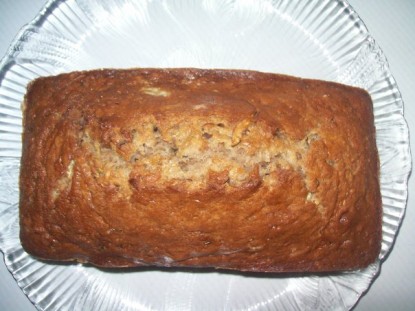 Difficulty: Easy
Servings: 2 Loaves
Cook Time:
35 to 60 minutes
Ingredients
Ingredients:
4 cups grated zucchini (approximately 2 medium sized zucchinis)
4 eggs
1 cup fat (butter, margarine or vegetable oil, etc)
2 cups sugar
4 cups flour
3 teaspoons vanilla
2 teaspoons cinnamon
1 teaspoon salt
1 teaspoon baking soda
1 – 8 oz. can of drained crushed pineapple
Optional
1/4 cup chopped walnuts
Directions
Directions
1. Preheat oven to 350°F.
2. Grate the zucchini, and measure out four cups. Add to large mixing bowl.
3. Add eggs, fat, cinnamon, salt, baking soda, vanilla, sugar and pineapple. Stir together well.
4. Add flour to the mixture, a bit at a time. Stir until all ingredients are mixed. The mixture should resemble thick pancake batter. If it is too thick, add another egg. Add nuts, if desired.
5. Lightly grease and flour your bread pans, or spray them with nonstick cooking spray.
6. Carefully spoon the mixture into bread pans, stopping when the mixture is about 3/4 of the way to the top.
7. Bake for 35 minutes, or until a golden brown. Take out loaves, and let them cool five minutes before removing the bread from the pans to finish cooling on a wire rack.
** Note: I have an electric stove and it takes longer than 35 minutes…more like an hour!
Recipe from Recipezaar.com originally called "We Hate Zucchini Bread" Zucchini Bread Recipe
Categories: Breads, Fruit Breads, Vegetable Breads
Submitted by: nataliecyphers on May 2, 2010