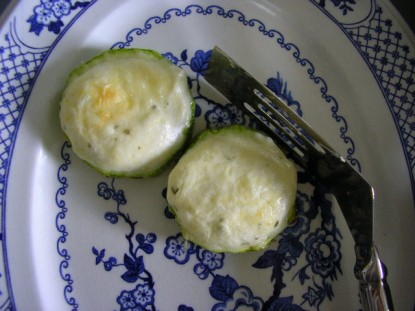 Difficulty: Easy
Servings: 6-8
Prep Time:
15 minutes
Cook Time:
15 minutes
Ingredients
2 zucchini (about 8″)
1 cup ricotta cheese
1/2 – 1 tsp dried basil or 1 – 2 tsp fresh basil, finely chopped
1/4 tsp salt (optional)
Parmesan or Romano cheese, grated (about 1/2 cup)
Directions
Preheat oven to 400. Spray a 13×9 pan with spray cooking oil.
Wash and dry off zucchini. Cut into 1/2″ thick slices. Place in single layer on pan.
Mix ricotta, egg, basil, and salt. Place ricotta mixture by small spoonfuls on top of each slice of zucchini. Place a large pinch of Parmesan or Romano cheese on each one.
Bake for 15 minutes or until just beginning to brown.
Categories: Appetizers & Snacks, Vegetables, Vegetarian
Tags: Italian
Submitted by: patrice on July 21, 2010