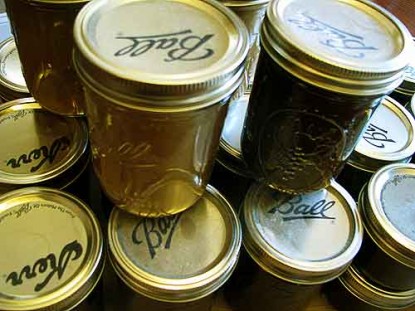 Difficulty: Easy
Servings: 3-4 half pints
Prep Time:
10 minutes
Cook Time:
10 minutes
Ingredients
2 cups white zinfandel wine
3 cups granulated sugar
1 pouch liquid pectin – (3 oz)
Directions
Boil wine and sugar for 5 minutes or until all the sugar is melted. Remove from heat, and add the entire pouch (3 ounces) of pectin. Stir and pour into sterilized jars and seal. Process in water-bath canner for 5 minutes. Cover and let cool overnight.
Categories: Boiling Water Bath, BWB Jams, Jellies, Butters & Preserves, Canning
Submitted by: pete on April 25, 2010