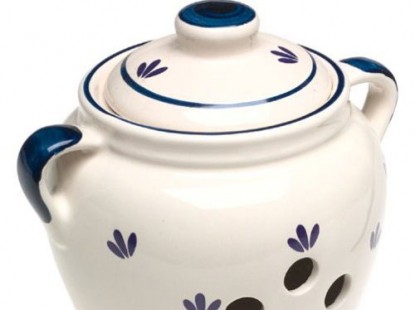 It's another cute and handy kitchen gadget giveaway weekend! I love garlic, and I love this adorable ceramic garlic keeper. Real garlic is always better than dried and powdered, but fresh garlic needs to be stored in a dry, cool (but not refrigerated), well-ventilated container. This little garlic keeper can store four to six regular size bulbs and keeps them in the ideal conditions with its ventilation holes–plus it's pretty. (And we know that matters!)
This contest will be open all weekend–and I'm looking for main dish recipes specifically! Only main dish recipes will qualify for the giveaway this time around. If you could, try to not give us a chicken recipe? I've had too much chicken lately! I want to hear about beef and pork and pasta. Wild game and seafood and fish. Main dish salads and beans. One-dish and casseroles. Leftover ideas. Show me what you've got! I can't wait to see!
For a chance to win: Submit a main dish recipe then leave a comment on this post telling me the name of the main dish recipe you submitted! You can enter multiple times for this contest by submitting more than one main dish recipe. Leave one comment per submitted main dish recipe for multiple chances to win.
One winner will be drawn by random comment number to receive the cute and handy garlic keeper. Eligible entry cut-off is midnight Eastern (U.S.) time Sunday (May 23). This post will be updated with the winner by 9 a.m. Eastern (U.S.) time Monday (May 24). Return to this post to see if you won. This giveaway is open all weekend!
Note: You must be registered to post a comment. Sign up (it's free!) and join us!
UPDATE 05/24/10: The winning comment number, drawn by random.org, is #19, Sharon Duffey. Email me at CITRgiveaways(at)aol.com with your shipping address!