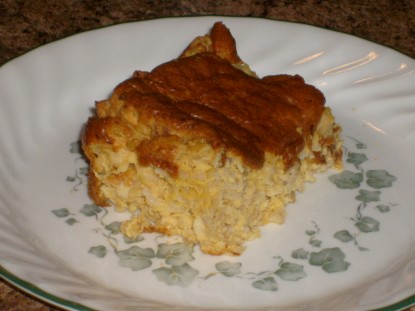 Difficulty: Intermediate
Servings: 6
Prep Time:
20 minutes
Cook Time:
40 minutes
Ingredients
1 can condensed cream of mushroom soup (10 3/4 oz)
1 cup shredded American cheese (or 9 slices)
1 1/2 cup cooked rice
2 (about 7 oz) cans tuna, drained & flaked
(or sub canned chicken, drained & chopped)
1/4 tsp. black pepper
3 eggs, separated
Directions
Combine soup and cheese in a large sauce pan; heat slowly, stirring until cheese melts completely, remove from heat. Stir in rice, tuna and pepper. Beat egg yolk in a small bowl; slowly stir into tuna mixture. Beat egg whites until they form firm peaks in a small bowl; fold into tuna mixture until no streaks of white remain.
Pour into an 8x8x2 baking dish spreading top evenly, bake for 40 minutes in a 350 degree oven.
Serves 6 (it will puff up and brown then fall some when you take it out of the oven, let it cool for 5 minutes before cutting).
Categories: Casserole, Fish, Main Dish, Poultry
Submitted by: msyankee on May 5, 2010