I was visiting with a retired clergy friend of mine one day and he said that he always hated the summer. I asked why, and he told me that his car got so hot being locked up all of the time. When I inquired further, he said that he had to lock his car or his parishioners would anonymously gift him with loads of zucchini from their abundant gardens.
Zucchini is quite prolific. It is native to the United States. It had been a staple in the diet of the American Indians. Zucchini contains vitamin A and C, as well as folate and potassium. It does not have a strong taste, so it can be used in a variety of ways and is never offended that it's not the star of the show. For folks with picky young eaters, it's a good veggie to hide. Grated small enough, it can be added to things like pasta sauce. Only the best picky detective could find it.
Zucchini can be used for stir fry, sautéed with sweet onions, or added to baked goods. Ratatouille is a popular French dish where it appears with onions, peppers, and eggplant in a basil-laden tomato base. Our family enjoys grated zucchini in breads, chocolate cakes and carrot cakes.
If you can't harvest your zucchini in time and they become huge, there are also recipe ideas for you. If you cut in half lengthwise and hollow it, you can fill it with stuffing and your choice of sautéed, chopped veggies, cooked meat, and pasta sauce. Top it generously with cheese and bake.
A cobbler is the most surprising use of all. It conveniently uses some of the zucchini that gets too big. After peeling, white flesh of the squash is cubed and simmered in water with lemon juice, sugar, and cinnamon. When drained, the cubes are similar to apples or cooked pears.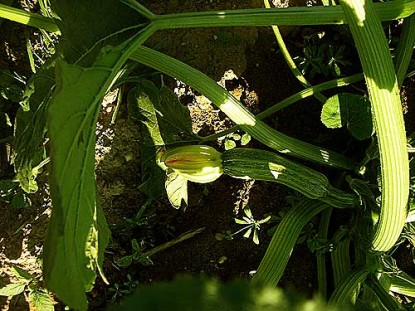 Zucchini is so easy to grow. Don't worry about growing too many. If you can't find a preacher with an unlocked car, you might be able to put it near a neighbor's front door, ring the bell and run for the hills!
You can also find Patrice at Everyday Ruralty.

Interested in contributing a guest post to the Farm Bell blog? Read information here for Farm Bell blog submissions.

Want to subscribe to the Farm Bell blog? Go here.