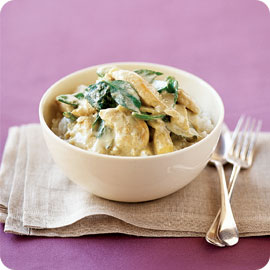 Difficulty: Intermediate
Servings: 4
Prep Time:
20
Cook Time:
30
Ingredients
2-3 teaspoons Green Curry Paste
1 can Coconut Milk (Regular, not 'Lite')
2 tablespoons brown sugar
3 red chili peppers, sliced (and wash your hands after you slice these!!)
1 tablespoon peanut oil (or other vegetable oil)
¾ lb chicken cut into bit sized pieces
1 tablespoon Fish Sauce
¾ cup basil, chopped
1 large eggplant, cut into strips (about ½" cubed strips)
Rice
Directions
1. Heat oil over medium heat. When hot, add in curry paste and whisk to sauté – until fragrant.
2. Turn up heat to medium-high and *slowly* add in coconut milk, whisking all the while.
3. Add chicken when liquid comes to a boil. Keep stirring at a low boil until chicken is cooked.
4. Add in brown sugar, chili peppers, fish sauce, and basil. Stir, bring back to low boil.
5. Add eggplant strips. Stir every few minutes and push everything down under the surface of the sauce.
6. It is done when the eggplant is soft and slightly brownish in color, about 15-20 minutes. But you can check the eggplant along the way – just take a piece out and let it cool and take a bite. It you like the consistency, it's done. The more cooked it gets, the softer and less tasteful it gets.
7. Serve over rice and enjoy!
Categories: Main Dish, Poultry
Tags: Thai
Submitted by: aedrielle on May 6, 2010