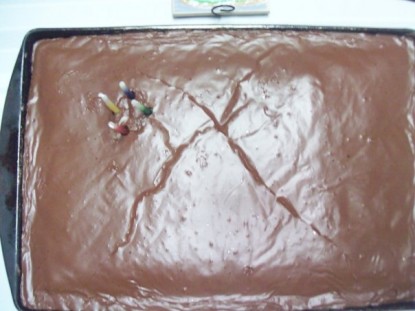 Difficulty: Easy
Servings: Sheet cake full of goodness
Cook Time:
15 - 20 minutes approx.
Ingredients
Cake:
1 cup water
5 Tbs. cocoa
2 sticks oleo
1/2 tsp. salt
1-3/4 cup sugar
2 cups flour
1/2 cup sour milk (1/2 tsp vinegar to 1/2 cup milk)
2 eggs
1 tsp. baking soda
1 tsp. vanilla
Frosting:
1 stick oleo
1/3 cup milk
5 Tbs. cocoa
2-1/3 cups powdered sugar
1/2 tsp. vanilla
Directions
Preheat oven 425 degrees; Bake 15 minutes.
Cake: Bring water, cocoa, oleo and salt to boil. Remove from heat and add the remaining ingredients. Mix together, pour on greased sheet pan.
Frosting: Bring oleo, milk, cocoa to boil, add powdered sugar and vanilla. Pour on cake while warm.
Categories: Cakes, Desserts, Frostings & Icings
Tags: birthday
Submitted by: nataliecyphers on May 4, 2010