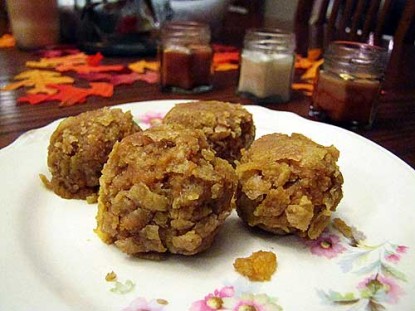 Difficulty: Easy
Servings: 3 dozen
Prep Time:
20 minutes
Cook Time:
15-20 minutes
Ingredients
2 28-ounce cans sweet potatoes
3 tablespoons brown sugar
1/2 teaspoon cinnamon
1 bag regular marshmallows
1 box corn flakes
Directions
Drain sweet potatoes; mash with brown sugar and cinnamon. Form mixture into balls around each marshmallow. Crush corn flakes. Roll balls in corn flakes. Bake on a greased baking sheet at 350-degrees for 15-20 minutes. Don't overbake.
Categories: Entertaining, Holiday, Side Dishes, Vegetables
Submitted by: cousinsheryl on November 27, 2010