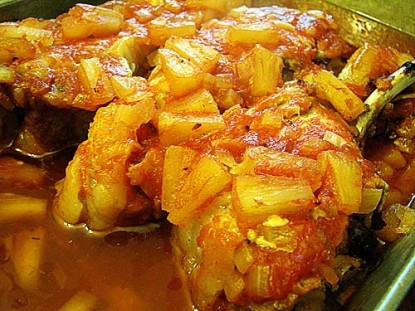 Difficulty: Easy
Servings: 4
Prep Time:
10 minutes
Cook Time:
4 - 5 hours in slow cooker
Ingredients
1 can (8 oz) crushed pineapple, undrained
1 cup honey barbecue sauce
1/3 cup finely chopped onion
2 tablespoons chili sauce
4 bone-in pork loin chops (3/4 inches thick and 8 ounces each)
Directions
In a small bowl, combine the pineapple, barbecue sauce, onion and chili sauce. Pour half into a greased 3 qt slow cooker. top with pork chops and remaining sauce. Cover and cook on low for 4 1/4 to 5 1/4 hours or until meat is tender.
Submitted by: debnfla3 on May 16, 2010