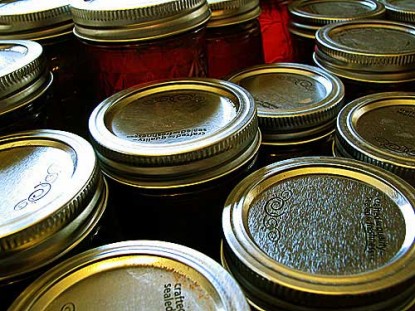 Difficulty: Easy
Servings: 8 half-pints
Prep Time:
1 hour
Cook Time:
15 minutes
Ingredients
3 cups crushed strawberries
1 1/2 cups crushed pineapple
1 cup chopped pears
1 package pectin
2 tablespoons grated lemon peel
4 tablespoons lemon juice
6 1/2 cups sugar
1/2 cup chopped walnuts
1/2 cup golden raisins
Directions
Put the fruit, pectin, and lemon juice in a big pot. Bring to a boil, stirring frequently. Add sugar. Bring to a rolling boil then boil hard one minute. Add nuts and raisins and put it in the jars, leaving 1/4-inch headspace. BWB 15 minutes. Makes about 8 half-pints.
Categories: Boiling Water Bath, BWB Marmalades & Conserves, Canning, Gourmet, Preserving
Submitted by: suzanne-mcminn on July 31, 2010