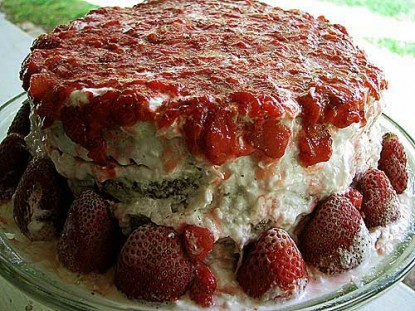 Difficulty: Easy
Servings: 12
Prep Time:
20 minutes
Cook Time:
20-25 minutes
Ingredients
CAKE:
1 box strawberry cake mix
1 3-ounce box strawberry Jell-O
1/3 cup vegetable oil
1 1/4 cups water
3 eggs
1 teaspoon vanilla extract
ICING:
1 1/4 cups sugar
1 pint strawberries
8 ounces sour cream
1 12-ounce package shredded coconut
8 ounces whipped cream
Directions
CAKE:
Combine all ingredients in a large bowl. Beat with an electric mixer. Pour into two greased round cake pans. Bake at 350-degrees for 20-25 minutes.
Use a thin string to cut the two cake rounds into four rounds to make a four-layer cake.
ICING:
Combine 1/4 cup of the sugar with the strawberries. Let sit for 15 minutes to let the juices come out of the strawberries. Reserving the strawberries, take 1/2 cup of the strawberry juice and combine with the rest of the sugar in another bowl. Stir till sugar is dissolved. Combine sour cream and coconut in a third bowl. Add sugar/strawberry juice mixture to sour cream/coconut mixture. Stir to combine. Fold in whipped cream.
Frost layers, top, and sides of cake. Decorate with the reserved sugared strawberries.
*Store in the refrigerator. Can be frozen.
Categories: Cakes, Desserts, Entertaining, Frostings & Icings, Potluck
Submitted by: suzanne-mcminn on June 5, 2010