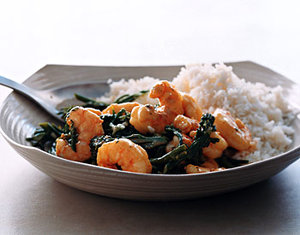 Difficulty: Easy
Servings: 4
Prep Time:
10 minutes
Cook Time:
25 minutes
Ingredients
1 cup sweetened, shredded coconut
2 ½ cups chicken broth
1 cup long grain white rice
1 tsp. salt
2 tbsp. vegetable or olive oil
2 lb. jumbo shrimp, peeled and deveined
1 red bell pepper, seeded and thinly sliced
1 fresh red chili, seeded and thinly sliced or ½ tsp. red pepper flakes
3 cloves garlic, minced
3 tbsp. soy sauce
2 cups fresh basil, torn
Zest and juice of 1 lime
Directions
Toast coconut in a sauce pan over medium heat until it turns golden brown. Reserve 1/2 cup for garnish.
To the remaining coconut in the sauce pan, add the chicken stock, rice and salt and bring it to a boil. Once at a boil, reduce the heat to a simmer, place a lid on top and cook for 15 minutes. Let the mixture stand for five minutes off the heat then fluff with a fork.
While the rice is cooking, preheat a large, nonstick skillet over high heat with the canola oil. When the pan is hot, add the shrimp, red bell peppers, chili (or red pepper flakes) and garlic, stirring frequently for about 3-4 minutes.
Add the fish sauce (or soy sauce), basil and toss to combine. Serve the shrimp and some of the sauce over the coconut rice and squeeze some lime juice over everything. Garnish with the reserved toasted coconut and the lime zest.
Categories: Beans, Grains & Rice, Main Dish, Seafood
Tags: Thai
Submitted by: peach106 on May 7, 2010