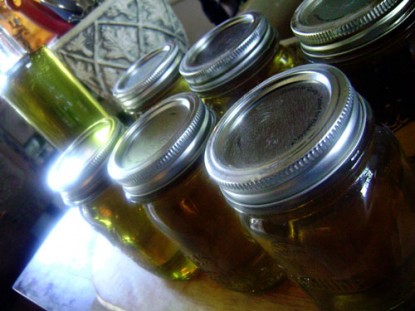 Difficulty: Easy
Servings: 7 1/2 pints
Prep Time:
1 1/2 hours
Cook Time:
10 mins processing
Ingredients
12 cups water
12 cups sugar
1/2 pound spearmint, leaves removed
Directions
Combine all ingredients in a non-reactive kettle. **
Bring to a full rolling boil.
Remove from heat and allow to steep for about an hour.
Strain the spearmint leaves from the syrup solution, pressing down on the leaves to get all of the liquid out.
Return to pot and return to a rolling boil for 3 minutes.
Fill prepared jars, wipe rims, place lid and ring on, and process in a Boil Water Bath for 10 mins.
** I'm sure you could steep the spearmint in the water first, measure the liquid and add same amount of sugar then continue on with the recipe.
Categories: BWB Condiments, Syrups
Submitted by: cindyp on May 20, 2010