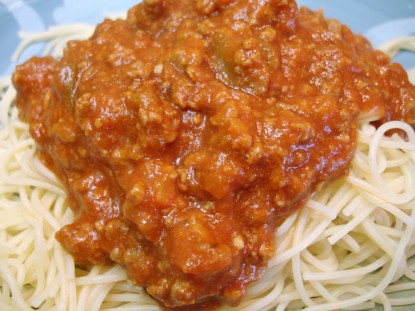 Difficulty: Easy
Servings: 8
Prep Time:
20 minutes
Cook Time:
at least an hour
Ingredients
2 lbs extra lean ground beef
1 large green pepper, diced
1 large onion, diced
2 cloves or 1 Tbsp crushed garlic
2 beef bouillon cubes
2 small cans tomato sauce
2 small cans tomato paste (I love the roasted garlic flavor)
2 cans tomato soup
Directions
Put the ground beef, onion, green pepper, garlic, and bullion cubes in a large pot and brown until the beef is done.
Add the 2 cans of sauce, paste, and soup. I really, really recommend the tomato paste with the roasted garlic flavor added, stir.
Bring the sauce to a boil and then reduce to the heat to barely a simmer. Cook for at least an hour, but the longer the better.
* I use a 96% lean ground beef, so I like to add a tablespoon of oil to the pan before browning the meat.
* I use a mini food processor to chop the onion and green pepper until they are in super tiny pieces–to hide them from the Goose. Feel free to have adult size pieces in your sauce. 🙂
Categories: Beef, Entertaining, Freezing, Kid-Friendly, Main Dish, Other Main Dish, Pasta, Sauces
Submitted by: sunshinemom on May 11, 2010