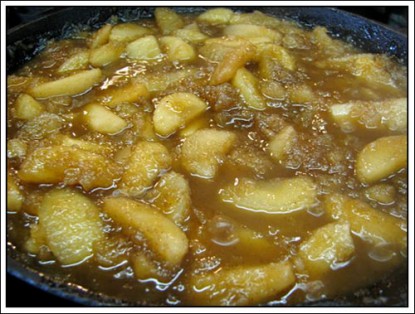 Difficulty: Easy
Servings: 6
Ingredients
8-10 apples
2 c. water
1/2 stick butter (I prefer the taste of Country Crock instead of butter but both are good!)
1/4 c. sugar
1/4 c. brown sugar
1 tsp. cinnamon
Directions
Peel, core and slice your apples into about 1/2-inch slices. Place apples and 2 cups water in sauce pan. Bring to boil, cover and cook for 2 minutes or until apples begin to get tender. Drain off water.
Put 1/2 stick butter (or margarine) in skillet. Add apples, sugar and brown sugar. If apples are very dry, add 1/4 cup water. Turn down to simmer and let cook, stirring occasionally to prevent sticking/burning. Cook until apples are very tender but not falling apart. Remove from heat, sprinkle with cinnamon, stir just enough to blend cinnamon in to apples and serve.
You can also use these as filling for fried apple pies.
Categories: Desserts, Fruits, Pies, Side Dishes
Submitted by: kentuckyfarmgirl on May 6, 2010