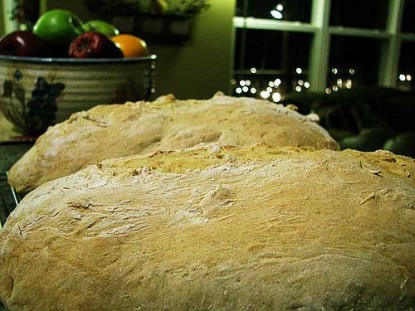 Difficulty: Easy
Servings: one loaf
Prep Time:
2 hours
Cook Time:
25 minutes
Ingredients
2/3 cup starter
1 1/3 cups warm water
1 teaspoon yeast (optional)
1/2 teaspoon salt
2 tablespoons sugar
1/4 teaspoon baking soda
4 cups flour*
Directions
Find out more about Grandmother Bread here.
See how to make sourdough starter sourdough starter.
*Flour measure is approximate-–you may need slightly more or less. Use what you need to get a good, pliable ball of dough.
Baking soda interacts with the starter, aiding the rise. And, in fact, you can eliminate the additional yeast in the recipe if desired–-if you are feeling all frisky and everything, because the starter itself has yeast in it, remember. Your bread will rise without any additional yeast-–if you're willing to wait three to six or more hours. Sourdough starter is actually a frugal way to stretch yeast, and the longer rise will give you more of that tangy sourdough flavor. However, sometimes we can't wait all day for bread to rise, so don't feel bad about adding the extra yeast and getting on with dinner.
In a large bowl, combine starter, water, additional yeast (if using), sugar, and salt. Let sit five minutes.
Stir in baking soda and first three cups of flour with a heavy spoon. Add the next cup of flour a little at a time as needed, stirring until dough becomes too stiff to continue stirring easily. Add a little more flour and begin kneading. The amount of flour is approximate–-your mileage may vary! Continue adding flour and kneading until the dough is smooth and elastic.
Let dough rise in a greased, covered bowl until doubled. (Usually, about an hour.) Uncover bowl; sprinkle in a little more flour and knead again before dividing in half. With floured hands, shape dough as desired and let rise again.
Bake for 25 minutes in a preheated 350-degree oven for loaves, or as directed in your bread recipe.
Categories: Breads, Sourdough, Yeast Breads
Submitted by: suzanne-mcminn on July 31, 2010