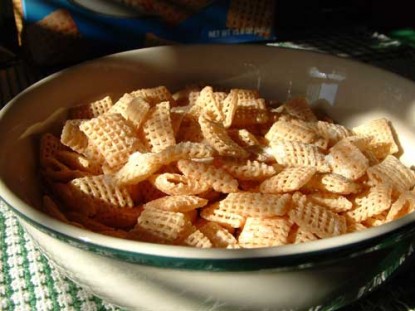 Difficulty:
Ingredients
about 10 cups assorted square cereal: wheat, bran, corn, or rice
about 3 cups of toasted oats cereal
1 1/2 cups pretzel sticks
1 can of mixed nuts
1/2 cup (1 stick) butter
2-3 tablespoons Worcestershire sauce
1/2 teaspoon seasoned salt (or to taste)
1/2 to 1 teaspon garlic powder (or to taste)
1/2 to 1 teaspoon onion powder
Directions
Mix the cereal, pretzels and nuts together in a large bowl. Melt the butter slowly in a saucepan and add the seasonings. In a large roasting pan, cover the cereal/nuts/pretzel mixture with the butter mixture and mix well. Heat at 250 degrees for about an hour and stir thoroughly every 10 minutes. Cool on paper towels.
Categories: Appetizers & Snacks
Submitted by: oneoldgoat on October 8, 2010