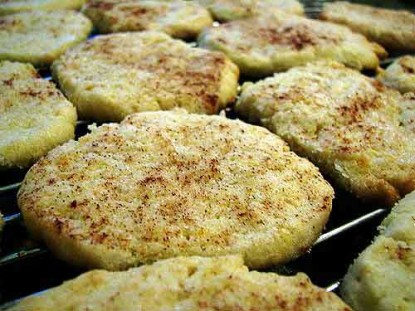 Difficulty: Easy
Servings: 3 dozen
Prep Time:
10 minutes plus chilling time
Cook Time:
8-10 minutes
Ingredients
2 2/3 cups all-purpose flour
1 cup butter, softened
2 teaspoons cream of tartar
1 teaspoon baking soda
1/2 teaspoon salt
1/2 teaspoon vanilla
2 eggs
sugar
2 teaspoons ground cinnamon
Directions
In a large bowl, measure flour, butter, cream of tartar, baking soda, salt, vanilla, eggs, and 1 1/4 cups sugar.
PLEASE NOTE the 1 1/4 cups sugar. Do not make these cookies without sugar!
Stir till well blended. Shape dough into a ball; cover with plastic wrap. Chill dough for two hours or until easy to handle. Place cinnamon and 2 tablespoons sugar in a small bowl. Shape chilled dough into 1 1/2-inch balls. Roll balls in cinnamon and sugar. Bake at 400-degrees on greased cookie sheets for 8-10 minutes.
I don't usually shape them into the little balls and roll them in the sugar and cinnamon. (Though that is the traditional method and will make a higher cookie, but I'm lazy sometimes.) Instead, I roll the dough into two logs, chill, then slice and just sprinkle the tops with cinnamon and sugar.
Categories: Cookies & Bars, Desserts
Submitted by: suzanne-mcminn on December 9, 2010