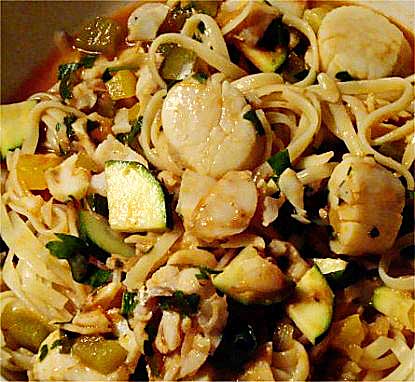 Difficulty: Intermediate
Servings: 4
Prep Time:
20 min
Cook Time:
25 min
Ingredients
A little olive oil to sauté onions maybe 1 Tblsp?
¼ cup green pepper, chopped medium
¼ cup red and/or yellow pepper, chopped medium (it sure is pretty, but if it's too expensive, skip it! Use some extra green pepper.)
1 small zucchini cut into thin disks and quartered
1 cup tomato sauce
1 cup water
1 small onion, chopped fine. (About 1/4 cup)
½ t cayenne pepper (more ok depending on your taste, don't want it overwhelming though)
Salt to taste (and it really DOES need some!)
1 lb white fish, cut into largish but manageable and consistent sized chunks (halibut is great, but any white fish you like is great)
Some shrimp (depending on price and # eating)
Some scallops (depending on price and # eating) I decide on 3 or 4 per person based on the price
½ cup chopped parsley, loosely packed, (MUST be fresh parsley, if you don't have fresh, don't bother making this!)
Directions
PREP: Put water on to boil for pasta. You'll be putting the pasta into the pot about the same time you add the fish to the sauce, it'll probably all be ready about the right time then!
PREP: Cut fish into largish consistent sized chunks. 2×2 in is probably good. Dice all the veg so it's all ready to go.
Put olive oil into pan and sweat the onion till just tender, not browned. Toss in the diced peppers, cayenne and add tomato sauce, and water and simmer about 10 minutes or so. (remember this isn't supposed to be a heavy sauce)
Add zucchini and white fish, if that's all you're using, cook till the fish is just done. (no way to say exact time here, it'll depend on size and type of fish.) The zucchini should be tender crisp.
If adding shrimp, this gets tricky because it depends on what type it is. I usually use the pre-cooked and frozen and have it at least slightly defrosted so it gets heated up about the time the fish is done, but so the shrimp doesn't get rubbery. If it's fresh and unfrozen, you probably want it to go in just before the fish.
If adding scallops add those last, they take only a few minutes to cook but it can depend on the size.
Stir in the FRESH chopped parsley and cook for a bare minute or so more, then I like to toss the pasta into the sauce not the other way around, but that's a detail really. Serve and enjoy!
I'm really sorry this isn't more exact, but there are just too many variables for what type of seafood you might have available. It's easy to cook though and a very delicious and fresh tasting dish.
Categories: Fish, Main Dish, Pasta
Submitted by: buckeyegirl on May 31, 2010