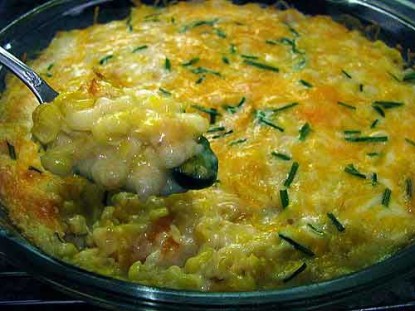 Difficulty: Easy
Servings: 6-8
Prep Time:
15 minutes
Cook Time:
35 minutes
Ingredients
1 cup chopped onions and/or peppers (hot or sweet)*
2 tablespoons butter
1 egg
2/3 cup milk
1 cup bread crumbs
1 15-ounce can creamed corn**
1 15-ounce can corn
1 cup shredded cheese
*Onions and/or peppers can be omitted if you prefer.
**I use my own fresh-frozen whole and creamed corn instead of canned.
Directions
Cook the onions and peppers in butter till tender. Combine egg, milk, bread crumbs, and a dash of pepper in a large bowl.
Stir in the onion/pepper mixture, the corn, and half of the shredded cheese. Pour into a 1.5 quart greased casserole dish.
Toss with remaining shredded cheese.
I like to decorate with a little bit of chives, too.
Bake at 350-degrees for 35 minutes.
Categories: Entertaining, Holiday, Side Dishes, Vegetables
Submitted by: suzanne-mcminn on June 18, 2010